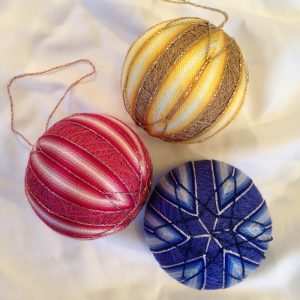 TEMARI BASICS: SIMPLY ELEGANT EMBROIDERED THREAD BALL
Date: Sunday, November 15, 2:30-5:30 pm
Description: In this class, students will learn to make a 6- or 8-segment lozenge-style temari ball, based on a traditional Japanese design. This simple design, which results in a 4"-diameter ball, teaches the basic skills of preparing, wrapping, marking, and stitching the ball. In addition to learning these skills, we will discuss color choices and materials, options for embellishing the ball beyond the basic stitched design, consider books and other instructional materials for furthering students' temari knowledge, and touch on the history of this ancient craft. No prior skills are required, but students might choose to begin their temari journey with the "Small Embroidered Temari Ball Ornament" class offered in October.
Sufficient materials to complete one temari ball will be provided. Students may be able to complete their temari ball during the scheduled class time, but if not, they will leave class with the knowledge and materials needed to complete it on their own. Students should bring their own small craft scissors and a pin cushion.
Who: Adults Limit: 8  Minimum: 4
Instructor: India Tresselt
Cost: $30.00.  Materials fee payable to instructor: $15
MATERIALS FEE $15.00 includes Styrofoam balls, yarn and thread for wrapping, pins for marking, embroidery needle, and perle cotton and metallic thread for stitching. Sufficient yarn and thread will be provided to make one ball per student. Students may keep pins and needles for future projects.
Must register by November 6!  Register here!