Welcome to Grand Isle Art Works and the Cafe at the Gallery!
"The best and most beautiful things in the world cannot be seen or even touched. They must be felt with the heart. Wishing you happiness."      – Helen Keller
7th Annual Meet the Artist, Groundhog Day Gala
January 27, 2018    5:30- ???
Don't miss this YUMMY event! This Mixer is an opportunity to tour the gallery, nosh on hors d'oeuvres, and meet many of the artists whose work is displayed and is for sale. Explore the high quality arts and crafts in the gallery. Let us know if you think the groundhog will see his shadow when you register for this yummy event! Guess correctly and your name will be added to the drawing for a grand gallery gift! Names will be drawn on Groundhog's Day, February 2. Plan on lots of good food! Experience a different food in every room in the gallery! You will not go home hungry! Sign up at: http://grandisleartworks.com/meet-the-artist-night/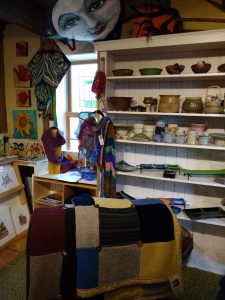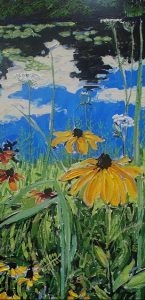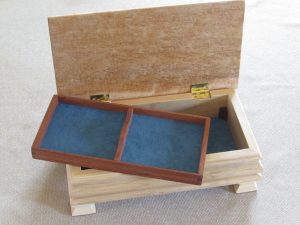 Grand Isle Art Works: A Vermont Artisans' Gallery is located on Route 2 just north of the village in Grand Isle. The property is a quirky old farmhouse built in 1797, with lots of character and interesting spaces for displaying art and fine crafts. The five acre lot has great frontage on the highway, and lots of room for us to grow. We represent over 75 Vermont artisans with artwork across multiple mediums!  The colors make this little farmhouse come alive!
Grand Isle Art Works is also home to the Cafe at the Gallery – a sweet spot for great food cooked with much love and island grown veggies and meats!