Grand Isle Art Works and Zach's Cafe at the Gallery!

Celebrate our 5th Year Anniversary – July 11-26th!
Look for more info on all the birthday events soon!  Our Kickstarter Project was fully funded…and more!  Thank you!  We are still accepting donations in the gallery for those that missed it and want to be involved.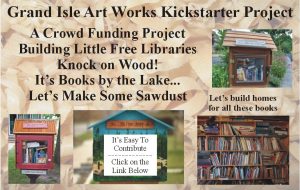 Let's Make some Sawdust!
July 18 & 19, 10-4:00 pm at Grand Isle Art Works
Collect-Design-Build-Paint-Decorate-Fill-Install-Take a Book-Return a Book!
Gallery Hours
Monday – Saturday, 10-4:00 pm
and… a wee bit later during THEME NIGHT THURSDAYS in the Cafe at the Gallery
Thursdays, 6-8:00 pm
Sunday 9-3:00 pm
Cafe Hours
Tuesday -Saturday, 10-3:00 pm, primarily lunch
Theme Night Thursday  6 – 8:00 pm
Sunday 9-2:00 pm, brunch
Check out the latest from Grand Isle Art Works…click on these links below!
Grand Isle Art Works: A Vermont Artisans' Gallery is an artisan gallery in Grand Isle, Vermont. Located on Route 2 just north of the village in Grand Isle. The property is a quirky old farmhouse built in 1797, with lots of character and interesting spaces for displaying art and fine crafts. The five acre lot has great frontage on the highway, and lots of room for us to grow.