Program of Classes
Join the fun at Grand Isle Art Works by signing up for one of our classes!  You will learn a new craft and have a chance to meet the gallery artist offering it!
Are you ready to get back into knitting?  
Join us as we explore…
Two Projects – your choice!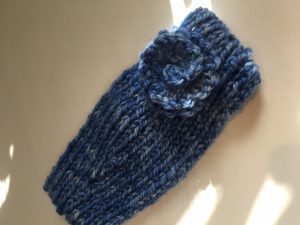 Knit a Headband with Flower
Learn how to knit this beautiful headband made with bulky yarn.  Ellen & June will help knitters learn this pattern. It is sure to become a favorite knitting project!  Participants should bring size 10.5  knitting needles (circular or straight) and a skein of bulky weight yarn.  Participants can purchase needles/yarn at the Grand Isle Art Works that evening.
Difficulty level: intermediate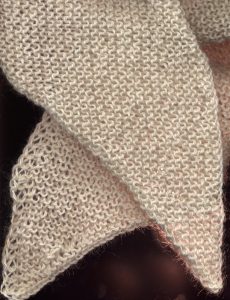 Knit a Sideways Scarf
Learn how to knit a simple and elegant scarf on the bias.  Ellen & June will help knitters learn this pattern. It is sure to become a favorite knitting project!  Participants should bring size 10.5 – 13 knitting needles (circular or straight) and a skein of sport weight yarn.  Participants can purchase needles/yarn at the Grand Isle Art Works that evening.
Difficulty level: easy
Who:  All ages Limit: 8
Instructor: Ellen A. Thompson & June Golato
Date: Wednesday, April 12 & April 19, 2017
Time: 6-7:45 pm
Cost: $30.00
#######################################################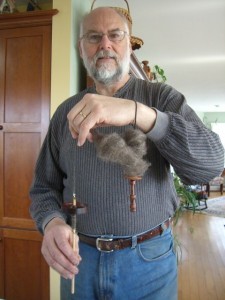 Hand Spinning with a Drop Spindle
Date: Wednesday, October 19, 6-8:00 pm
Description: Learn how to use a drop spindle to create beautiful hand spun yarns. Jim will demonstrate both spinning and plying. Participants will need to bring a drop spindle or can borrow and/or purchase one of Jim's hand turned spindles.
Who: All ages, 8 and above! Limit: 8
Instructor: Jim Holzschuh
Cost: $20.00.  Materials fee payable to instructor: $10; optional spindle: $35.00
 ##################################################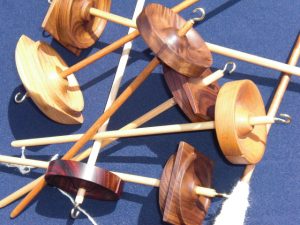 Kids…Make and Take: Spinning on a Drop Spindle
Date: Sunday, October 16, 1-3:00 pm
Description: Participants will make their own simple drop spindle and learn to spin!
Who: All ages, 8 and above! Limit: 8
Instructor: Jim Holzschuh
Cost: $15.00 Materials fee payable to instructor: $10
 ##################################################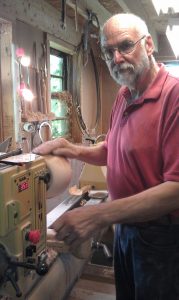 Wood Turning Demonstration
Date:  Sunday, October 23   Time:  1-3:00 pm
Have you always wanted to know how items are turned on a wood lathe?  Jim will show participants how to create a few smaller turned items.  He will start with a wooden top, graduate to a small nut bowl.   This demonstration will take place outside.
Who: All ages, 8 and above!  Limit: 10
Instructor:  Jim Holzschuh
Cost:  FREE
########################################################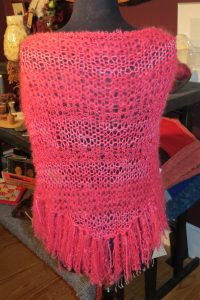 Knitting Class: Simple Tri-Shawl
Date: Wednesday, Nov. 2  Time: 6:15 – 7:45 pm
Description: Participants will begin a fun fall shawl project using yarn. This shawl  knits up quickly. Will need 1 skeins of yarn (250 yards or more), plus size 15 needles long or 16-24" rounds.
Who: Adults Limit: 8
Instructor: Ellen Thompson
Cost:  $20.00
##########################################################