Calling all landscape artists and art lovers alike.
Art By the Lake…so beautiful to behold! 
THE DETAILS!!!
Date:  Saturday, July 8 with artist sale and reception on Sunday, July 9
Artist fee:  $30.00
Event schedule:
July 8th, Isle Paint!
9:00 – 10:00 am   Check in at your site
10:00 – 3:00 pm   Isle Paint:  Lake Champlain Island's Plein Air Paint Out!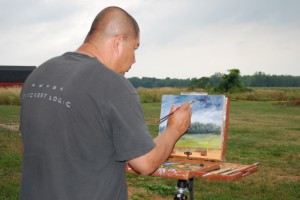 July 9th, Palette to Palate Celebration
12:00 – 1:00 pm   Bring artwork to Grand Isle Art Works for display and sale
1:00 – 3:00 pm   Art Sale, Local Wine/Beer, Local Cheeses and Veggies; Open to the Public
Painting site:
Snow Farm Winery, 190 West Shore Rd. in South Hero
Grand Isle Art Works, 259 US Route 2 in Grand Isle
North Hero House, 3643 US Route 2 in North Hero
Fisk Farm/Goodsell Ridge, 3849 West Shore Rd. in Isle La Motte
Hall Home Place, 4445 Main St. in Isle La Motte
Artists will be given identifying signs to be set up once exact location is selected.  Signage will announce the Plein Air event for visitors.
Sale of Artwork: Artists may display one – two previously completed pieces at their painting area which can then be offered for sale at Grand Isle Art Works, July 9, 1-3:00 pm.  Artists should complete one new painting during the Isle Paint:  Lake Champlain Island's Plein Air Paint Out!  This new painting will be offered for sale as well as the 1-2 previously finished pieces.  A 25% commission will be in place for all sales during this event.  All sales will be completed through Grand Isle Art Works. A portion of the sales will be donated to Champlain Islanders Developing Essential Resources (C.I.D.E.R.).
Unsold Paintings: Grand Isle Art Works will select several unsold paintings to keep on display (and for sale) in the gallery through the end of July.  The 25% commission will apply for any further sales.
Weather: This is a rain or shine event.  Artists should plan on bringing tents if inclement weather is in the forecast.  Cancellation will occur only in the case of extreme weather.  Call Ellen or Jim at 802-372-4556 in the morning (before 8:00 am) if the weather is most inclement.
Parking – Maps and more: You will receive additional information once your registration is received.  This will include maps to your painting site and Grand Isle Art Works.  Promotional information to share with others will be supplied.