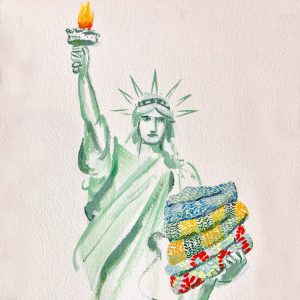 Are you game?  Grand Isle Art Works will offer a weekly knitting location for folks to create a Welcome Blanket.   The Welcome Blanket Project aims to connect people already living in the United States residents with our country's new immigrants through stories and handmade blankets, providing both symbolic and literal comfort and warmth. At the same time, the project offers a positive, hands-on way to understand the scope of a 2000-mile border wall and to subvert it from an idea of exclusion to one of inclusion.
We offer all Yellow Dog Farm yarns at 10% off to anyone making a blanket.  We can commune on the gallery deck to sip and knit.  The cafe has a variety of soft drinks as well as beers and wines for sale.
Our weekly Welcome Blanket gathering with take place at:
Grand Isle Art Works and Cafe
259 US Route 2
Grand Isle, VT 05458
802.378.4591
When: Tuesdays beginning June 27 through August 29, excluding July 4
Hours: 6:30 – 8:00 pm
Yarn discount at gallery: 10% off Yellow Dog Farm yarns being used for a Welcome Blanket
Read on for more details…
A welcome blanket is traditionally created to lovingly mark the arrival of a new person into the world. In the Welcome Blanket Project, each handmade blanket is a physical manifestation of this celebration of new refugees and other immigrants: "Welcome to the United States and your new life here! We are so glad you have arrived."
The blankets will be displayed together at the Smart Museum at the University of Chicago between July 18 and December 17. We are starting with an empty gallery space and displaying the blanket packages as they arrive. Final due date to send for the the exhibition is September 5.  This is an incredible opportunity to have your work in a museum show. Admission to the museum is always free and open to all.