We are located at:  259 US Route 2, Grand Isle, Vermont 05458
802-378-4591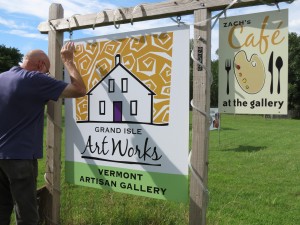 Grand Isle Art Works: A Vermont Artisans' Gallery is an artisan gallery in Grand Isle, Vermont. Located on Route 2 just north of the village in Grand Isle.  The property is a quirky old farmhouse built in 1797, with lots of character and interesting spaces for displaying art and fine crafts. The five acre lot has great frontage on the highway, and lots of room for us to grow.
Our goal is to provide a gallery space filled with high quality, hand-crafted work from Vermont artists and artisans. All work will be juried according to aesthetics, technical proficiency, originality, and marketability. The gallery is a retail sales venue, instructional site, as well as a common advertising tool for each artist.
Membership in this gallery requires juried admission, an annual exhibitor fee, and a commission cost. Members receive retail space appropriate for their art or craft.
We are looking for artists across a range of mediums. Please do drop us a note if you would like more information at: info@grandisleartworks.com
Directions:
From Burlington and other points south – Take Interstate 89 north to Exit 17. Follow Route 2 for a total of 15 miles, crossing over the sandbar causeway and through the town of South Hero, continuing north to the town of Grand Isle. Still traveling north on Route 2, Grand Isle Art Works (on your left) is just past the Grand Isle school (on your right).
From Montreal and other points north – Find your way to the Rouses Point, NY Bridge. Once in Vermont, take Route 2 south for 36 miles. Staying on Route 2 Grand Isle Art Works (on the right) will be 2 miles past the lift bridge connecting North Hero island to Grand Isle.
From Plattsburgh and other points west – Make your way to the Grand Isle Ferry at Cumberland Head, NY. The ferry runs 24/7 and makes the crossing in about 15 minutes. Once in Vermont, turn left onto Route 314 (also West Shore Road) and follow it to Route 2. Take a left onto Route 2. From that turn Grand Isle Art Works will be 2 miles on your left.
For additional information check out the map!

View Larger Map