Could it get any better?
This is going to be a fun weekend at the gallery!  Saturday, December 3 is the Champlain Islands' Holiday Hop…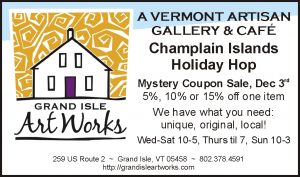 Grand Isle Art Works is the place to be…for all of your hand made holiday gifts.  Join us for a cup of mulled cider while you ponder the beautiful items in the gallery.  Best of all you will be treated to a Mystery Coupon Sale.  This could be your lucky day for 5% – 10% – or even 15% off one item of your choosing.
AND…
Starting on December 1, the Grand Isle Art Works will be the "Other" Jump On It Deal.  You can find it on the Vermontopia website.  A $50 gallery gift certificate for only $25!  Our gallery Deal will be available on-line for 5 days!  Don't miss this great value.